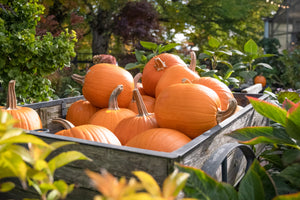 Autumn Activities
Discover all the fall festivities happening at the Farm this year:
Arriving Mid-September
Peruse Our Portland Pumpkin Patch
Each fall, we are proud to offer a stunning selection of locally-grown heirloom pumpkins and classic orange carvers in our photo-worthy Pumpkin Patch! Stop by to find the perfect pumpkin for your Jack-o-lantern needs and pose for a few fun fall photos among the hay bales.
Submissions Due September 27
Enter Our Annual Scarecrow Contest
Show off your spooky creativity this fall for a chance to win a $300, $200, or $100 Cornell Farm gift card! We are excited to once again open up our annual scarecrow contest to the community. The top three winners will be determined by an online poll at the end of September.
Classes & Events
Get ready to celebrate fall with seasonal workshops, meet-ups, artist markets, and more!
September 29 - October 1
Visit the Oregon Potters Association Fall Fair
Cornell Farm is excited to host the Oregon Potters Association's annual Fall Fair again in 2023! Celebrate the beginning of fall with us at this 3-day, market-style event featuring 35+ ceramic artists who will be here selling their wares. Shop local this season and discover beautiful handmade pieces for inside and outside your home.
Friday & Saturday: 9am - 6pm
Sunday: 9am - 4pm
October 22
Exchange Plants at Our Fall Houseplant Swap
Calling all houseplant parents! On Sunday, October 22, we're excited to host our FREE quarterly Houseplant Swap for houseplant parents from across our community to meet up and exchange plants, cuttings, and knowledge. The swap runs from 4 - 5pm, and this time around, will be preceded by a special "Houseplants 101" Talk by one of our houseplant experts at 3:30pm.
Seasonal Shopping & Dining
There's so much to find at the Nursery, Gift Shop, and Cafe this autumn.
Beginning in August
Check Out Our Halloween Shop
If you're serious about spooky season, you know it's never too early to start decorating! Beginning in August, a haunting Halloween display appears like a specter in our Gift Shop, full of planters, decor, and more to help get you in the spooky spirit.
Beginning September 2
Try Our Fall Menu
Our Cafe's menu is always changing with the seasons, and on September 2, we're officially making the switch for autumn! Experience the flavors of fall at a sit-down brunch in our family's Farmhouse, or explore our Pumpkin Patch with a delicious pastry or steaming seasonal beverage in hand.
Arriving Mid-September
Discover Our One-Stop Bulb Shop
Come explore our rainbow of bulbs for fall planting, including crocuses, daffodils, irises, tulips, fritillaria, hyacinths, and more. They couldn't be easier to plant — just pop them in the ground now for a springtime show.
Check out a few design tips and suggested combinations we've put together to inspire you on our blog, then shop our astounding selection in person at the Patio.
Beginning in September
Take Advantage of Fall Planting Weather
Cool fall rains are perfect for helping plants get established, so take advantage of the weather to add more perennials, shrubs, and trees to your home landscape — including climate-adapted PNW natives! In mid-September, our Native Section will be getting a refresh with a large shipment of PNW natives to beautify your garden while creating habitat for local wildlife.
Stay tuned for more info!