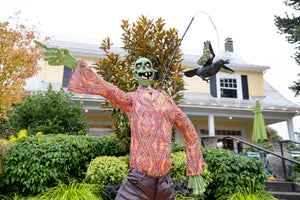 Submissions Open through September 27, 2023
Enter Your Scarecrow to Win!
Cornell Farm is excited to once again open up our annual scarecrow contest to the community so that everyone can get in on the fall fun. Each year, we count on members of our team to participate, but if you feel so possessed by the creative spirit in the leadup to Halloween, the contest is open to anyone in the Portland area. You just have to be able to deliver your scarecrow to the Farm — and pick up your prize — in the event that your scarecrow is chosen as one of our three winners!
PRIZES
A $300, $200, or $100 Cornell Farm gift card will be awarded to the respective creators of the top three scarecrows, who will be determined by an online vote in the first week of October. The winning scarecrows will be displayed onsite at Cornell Farm through Halloween.
HOW TO ENTER
1) Dream up a cool scarecrow and bring it to life — one entry per household, please! Don't be afraid to get creative, but please keep submissions family-friendly.
2) Take a picture of your finished piece in a well-lit location. All photo submissions should be captured in both portrait and landscape orientations and sent in high resolution. (iPhone-quality pictures are great! Just be sure it uploads in "Original Quality," if possible.)
3) Send us an email at entry@cornellfarms.com including two high-resolution photos of your scarecrow, your name, and your scarecrow's name. The final deadline to submit entries is 11:59pm on September 27, 2023. We can't wait to see what fun scarecrows you dream up!
Stay tuned for more information on voting, which will run September 29 - October 5.
Be Inspired By
Last Year's Winners
Check out our top three scarecrows from 2023, as voted on by our newsletter audience:
First Place — "Frida 'Caww'-Lo" by Daniel N.
Second Place — "Gardener Gone Missing" by Tracy H.
Third Place — "The Harvest Queen" by Renee E.
Stay Tuned...
Voting will run September 29 - October 5, 2023.