A slice of paradise in Portland.
Welcome
As a fourth-generation family farm in Portland's West Hills, we pride ourselves in growing truly amazing plants, selecting the best gifts and supplies, and making the most delicious brunch, pastries, and espresso in our Cafe. Discover all we have to offer!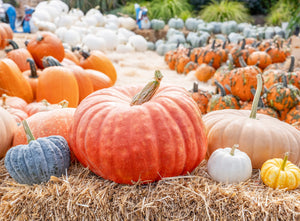 Pumpkins, Scarecrows, and the best of Autumn in the Garden.
Discover
Our Urban Oasis
Located just two miles from Washington Park and 10 minutes from downtown Portland, we've been providing our guests with an escape from the concrete jungle for more than 35 years.
We invite you to stop and smell the roses in our display gardens, get lost among the rows of beautiful foliage and flowers, and take a moment to reset. And if you so desire, you can even take a piece of that tranquility home with you, because we have everything you need to keep your garden and home beautiful year-round.
Discover
The Colors of the Season
Spring, summer, autumn, and winter. There is an entire world of color just waiting to be invited into your garden all year long, and we grow the best of every season for your garden.
Discover
Heavenly Houseplants
No matter how much gardening space you have outside, there is a whole wide world of plants waiting in the great indoors. From flowering favorites to foliage focal points, we carry a fantastic selection of houseplants for your home or office year-round.
Discover
Farm to Table
Since 2016, we've been serving up fresh brunch fare, coffee, and pastries from our family's historic 1926 farmhouse located at the heart of the Nursery. Whether you stop in for a quick latte or a full sit-down brunch, you'll be wowed by our flavors inspired by the high-quality, seasonal produce we source from farmers and growers right here in the Pacific Northwest.
Brunch is served from 8am - 3pm daily, and the espresso bar and pastry case are open until 6pm.
Discover
The Magic of Gardening
Gardening is perhaps best described as a collaboration with nature, and there's something truly magical about that relationship. There is nothing like witnessing a budded flower unfurl in the light of a new day, watching ornamental grasses dance in the breeze, or hearing the whir of hummingbird wings in your pollinator patch.
Discover
Our Flock Among the Flowers
If you hear the sound of contented clucking as you walk through our display gardens, that isn't your ears playing a trick on you! In a nod to the agricultural history of our family's land, we keep a small flock of chickens in a deluxe coop located behind the Farmhouse Cafe. Families with children, in particular, will enjoy greeting — and feeding — the handful of hens and roosters that call the Farm home.
They do lay eggs, but they could never keep up with the demand from our brunch crowd at the Cafe, so we source all of our omelette-making eggs from Annie's Eggs in Tillamook, OR.
DISCOVER
The Perfect Venue
Our Garden Pavilion is the perfect spot for family celebrations like birthdays or reunions, client appreciation, corporate meetings, classes, fundraisers, tastings and more!

Plus our phenomenal team will create the perfect dining experience for your event from cocktails and hors d'oeuvres to multi-course banquets.